はじめに
くどうです
HDInsightをモニタリングしたい場合、Ambari UIを利用すると非常に便利です。
しかし、KafkaについてはAmbari UIでモニタリング出来る項目が少なく別の方法を検討する必要があります。
その一つとして、Jolokiaを利用した方法を紹介します。
Jolokiaとは
Jolokia
https://jolokia.org/index.html
JolokiaはJMXの情報を収集し、HTTP REST APIとして返答できるAgentです。
Agentは一つではなく下記が用意されています。
1,WAR Agent for deployment as web application in a JEE Server.
2,OSGi Agent for deployment in an OSGi container. This agent is packaged as a bundle and comes in two flavors (minimal, all-in-one).
3,JVM Agent which can be used with any Oracle/Sun based JVM, Version 6 or later.
4,Mule Agent for usage within a Mule ESB.
それぞれのAgentの詳細は下記で確認できます。
https://jolokia.org/agent.html
KafkaではJVM Agentを利用し、REST APIにてモニタリングします。
構成
今回の構成図


Hdinsight はクラスターの種類はStorm、OSはLinux、バージョンはStorm 0.10.0(HDI 3.4)です。
ログインしてKafkaを確認
hdinsight-kafka 2.4
kafka-2-4-2-0-258 0.9.0.2.4.2.0-258
Hdinsight とモニタ用仮想マシン(Linux)は同Vnetの必要があります。
図中の、StormについてあStorm UIを利用して、REST APIが利用できます。
KafkaについてはJolokiaを利用します。
Jolokiaを設定
最初にHDInsight側にJolokiaを設置する必要があります。
AmbariUIを利用し、Kafkaが動作しているIPアドレスを確認します。
Summaryを見るとIPを確認できます。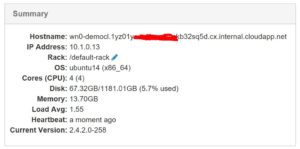 まず、Hdinsight にSSHでログインします。
その後、Summaryで確認したIPへログインします。
# wget http://search.maven.org/remotecontent?filepath=org/jolokia/jolokia-jvm/1.3.3/jolokia-jvm-1.3.3-agent.jar -O jolokia-jvm-1.3.3-agent.jar
# mv /root/jolokia-jvm-1.3.3-agent.jar /usr/sbin/
以上で設置は完了です、
次に、KAFKA_OPTSにてjavaagent動作させます。
直接、Configを書き換えでも大丈夫ですがAmbari UIから設定してみましょう。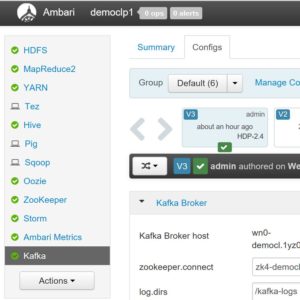 Advanced kafka-envを開きます。
kafka-env templateに下記を追記します。
追記する場所は
export KAFKA_KERBEROS_PARAMS={{kafka_kerberos_params}}

の直下
export KAFKA_OPTS=-javaagent:/usr/sbin/jolokia-jvm-1.3.3-agent.jar=host=0.0.0.0

host=0.0.0.0はすべてのIPアドレスからREST APIのGETリクエストを受け付けることを意味します。
Saveします。

Saveします。


Restartします。


以上でHdinsight 側に準備ができました。
REST API
実際にモニタ用仮想マシンから確認してみましょう。
モニタ用仮想マシンにログインします。
事前にjqをインストールします。
デフォルトポートは8778です
確認できるメトリクスを確認する場合のsearch書式は
http://[サーバーIP]:8778/jolokia/search/[メトリクス]

[root@kafkamonitoring ~]# curl -s http://10.1.0.13:8778/jolokia/search/kafka.*:* | jq .
{
  "value": [
    "kafka.server:delayedOperation=Fetch,name=NumDelayedOperations,type=DelayedOperationPurgatory",
    "kafka.server:delayedOperation=Produce,name=PurgatorySize,type=DelayedOperationPurgatory",
    "kafka.network:name=RequestsPerSec,request=Heartbeat,type=RequestMetrics",
    "kafka.network:name=ResponseQueueTimeMs,request=SyncGroup,type=RequestMetrics",
    "kafka.network:name=ThrottleTimeMs,request=StopReplica,type=RequestMetrics",
    "kafka.server:name=UnderReplicatedPartitions,type=ReplicaManager",
    "kafka.network:name=RemoteTimeMs,request=LeaveGroup,type=RequestMetrics",
    "kafka.network:name=RequestQueueTimeMs,request=StopReplica,type=RequestMetrics",
    "kafka.network:name=LocalTimeMs,request=DescribeGroups,type=RequestMetrics",
    "kafka.network:name=ResponseSendTimeMs,request=ListGroups,type=RequestMetrics",
    "kafka.network:name=LocalTimeMs,request=LeaderAndIsr,type=RequestMetrics",
    "kafka.server:name=TotalProduceRequestsPerSec,type=BrokerTopicMetrics",
    "kafka.network:name=ResponseSendTimeMs,request=GroupCoordinator,type=RequestMetrics",
    "kafka.network:name=RequestQueueSize,type=RequestChannel",
    "kafka.network:name=LocalTimeMs,request=Metadata,type=RequestMetrics",
    "kafka.network:name=LocalTimeMs,request=Heartbeat,type=RequestMetrics",
    "kafka.network:name=ResponseSendTimeMs,request=LeaveGroup,type=RequestMetrics",
    "kafka.log:name=max-buffer-utilization-percent,type=LogCleaner",
    "kafka.network:name=RequestsPerSec,request=StopReplica,type=RequestMetrics",
    "kafka.server:broker-id=1001,type=controller-channel-metrics",
    "kafka.network:name=RequestQueueTimeMs,request=GroupCoordinator,type=RequestMetrics",
    "kafka.network:name=ResponseQueueTimeMs,request=Offsets,type=RequestMetrics",
    "kafka.network:name=LocalTimeMs,request=OffsetCommit,type=RequestMetrics",
    "kafka.network:name=RequestsPerSec,request=Offsets,type=RequestMetrics",
    "kafka.network:name=NetworkProcessorAvgIdlePercent,type=SocketServer",
    "kafka.controller:name=OfflinePartitionsCount,type=KafkaController",
    "kafka.network:name=ResponseQueueTimeMs,request=Metadata,type=RequestMetrics",
    "kafka.network:name=ResponseQueueTimeMs,request=ControlledShutdown,type=RequestMetrics",
    "kafka.network:name=RequestQueueTimeMs,request=LeaderAndIsr,type=RequestMetrics",
    "kafka.network:name=IdlePercent,networkProcessor=6,type=Processor",
    "kafka.network:name=ResponseSendTimeMs,request=OffsetCommit,type=RequestMetrics",
    "kafka.network:name=IdlePercent,networkProcessor=0,type=Processor",
    "kafka.network:name=RequestQueueTimeMs,request=Heartbeat,type=RequestMetrics",
    "kafka.network:name=ResponseSendTimeMs,request=ControlledShutdown,type=RequestMetrics",
    "kafka.network:name=ResponseSendTimeMs,request=DescribeGroups,type=RequestMetrics",
    "kafka.network:name=TotalTimeMs,request=SyncGroup,type=RequestMetrics",
    "kafka.network:name=ResponseQueueTimeMs,request=Heartbeat,type=RequestMetrics",
    "kafka.network:name=TotalTimeMs,request=DescribeGroups,type=RequestMetrics",
    "kafka.network:name=IdlePercent,networkProcessor=7,type=Processor",
    "kafka.network:name=TotalTimeMs,request=JoinGroup,type=RequestMetrics",
    "kafka.network:name=RequestsPerSec,request=FetchConsumer,type=RequestMetrics",
    "kafka.network:name=ResponseQueueTimeMs,request=Fetch,type=RequestMetrics",
    "kafka.network:name=ResponseQueueTimeMs,request=FetchConsumer,type=RequestMetrics",
    "kafka.controller:name=UncleanLeaderElectionsPerSec,type=ControllerStats",
    "kafka.network:name=TotalTimeMs,request=StopReplica,type=RequestMetrics",
    "kafka.network:name=RequestsPerSec,request=DescribeGroups,type=RequestMetrics",
    "kafka.network:name=RequestQueueTimeMs,request=JoinGroup,type=RequestMetrics",
    "kafka.network:name=ThrottleTimeMs,request=Heartbeat,type=RequestMetrics",
    "kafka.server:networkProcessor=6,type=socket-server-metrics",
    "kafka.network:name=TotalTimeMs,request=ControlledShutdown,type=RequestMetrics",
    "kafka.server:type=Produce",
    "kafka.network:name=ResponseQueueSize,processor=0,type=RequestChannel",
    "kafka.network:name=ResponseQueueTimeMs,request=LeaveGroup,type=RequestMetrics",
    "kafka.log:name=max-clean-time-secs,type=LogCleaner",
    "kafka.network:name=ThrottleTimeMs,request=Produce,type=RequestMetrics",
    "kafka.network:name=ResponseQueueSize,processor=7,type=RequestChannel",
    "kafka.network:name=IdlePercent,networkProcessor=2,type=Processor",
    "kafka.network:name=ResponseQueueTimeMs,request=OffsetFetch,type=RequestMetrics",
    "kafka.network:name=LocalTimeMs,request=StopReplica,type=RequestMetrics",
    "kafka.network:name=ThrottleTimeMs,request=UpdateMetadata,type=RequestMetrics",
    "kafka.network:name=LocalTimeMs,request=Fetch,type=RequestMetrics",
    "kafka.network:name=RemoteTimeMs,request=JoinGroup,type=RequestMetrics",
    "kafka.network:name=ResponseSendTimeMs,request=JoinGroup,type=RequestMetrics",
    "kafka.network:name=ResponseQueueSize,processor=3,type=RequestChannel",
    "kafka.server:name=PartitionCount,type=ReplicaManager",
    "kafka.network:name=RequestsPerSec,request=OffsetCommit,type=RequestMetrics",
    "kafka.server:networkProcessor=3,type=socket-server-metrics",
    "kafka.server:name=BrokerState,type=KafkaServer",
    "kafka.server:delayedOperation=Heartbeat,name=PurgatorySize,type=DelayedOperationPurgatory",
    "kafka.server:name=RequestHandlerAvgIdlePercent,type=KafkaRequestHandlerPool",
    "kafka.network:name=RequestQueueTimeMs,request=DescribeGroups,type=RequestMetrics",
    "kafka.network:name=ResponseQueueSize,processor=2,type=RequestChannel",
    "kafka.network:name=RemoteTimeMs,request=Produce,type=RequestMetrics",
    "kafka.network:name=TotalTimeMs,request=Produce,type=RequestMetrics",
    "kafka.network:name=ResponseSendTimeMs,request=StopReplica,type=RequestMetrics",
    "kafka.network:name=ThrottleTimeMs,request=SyncGroup,type=RequestMetrics",
    "kafka.server:name=BytesInPerSec,type=BrokerTopicMetrics",
    "kafka.network:name=LocalTimeMs,request=ControlledShutdown,type=RequestMetrics",
    "kafka.network:name=RemoteTimeMs,request=OffsetCommit,type=RequestMetrics",
    "kafka.network:name=ThrottleTimeMs,request=OffsetFetch,type=RequestMetrics",
    "kafka.network:name=ResponseSendTimeMs,request=OffsetFetch,type=RequestMetrics",
    "kafka.network:name=TotalTimeMs,request=LeaveGroup,type=RequestMetrics",
    "kafka.network:name=ThrottleTimeMs,request=ListGroups,type=RequestMetrics",
    "kafka.network:name=RequestsPerSec,request=OffsetFetch,type=RequestMetrics",
    "kafka.controller:name=PreferredReplicaImbalanceCount,type=KafkaController",
    "kafka.network:name=RequestsPerSec,request=LeaveGroup,type=RequestMetrics",
    "kafka.server:name=IsrShrinksPerSec,type=ReplicaManager",
    "kafka.network:name=TotalTimeMs,request=FetchFollower,type=RequestMetrics",
    "kafka.network:name=ResponseQueueTimeMs,request=StopReplica,type=RequestMetrics",
    "kafka.server:networkProcessor=1,type=socket-server-metrics",
    "kafka.server:networkProcessor=5,type=socket-server-metrics",
    "kafka.network:name=TotalTimeMs,request=Heartbeat,type=RequestMetrics",
    "kafka.server:name=FailedProduceRequestsPerSec,type=BrokerTopicMetrics",
    "kafka.network:name=ResponseQueueTimeMs,request=LeaderAndIsr,type=RequestMetrics",
    "kafka.network:name=RemoteTimeMs,request=OffsetFetch,type=RequestMetrics",
    "kafka.network:name=ThrottleTimeMs,request=Offsets,type=RequestMetrics",
    "kafka.network:name=ResponseSendTimeMs,request=Offsets,type=RequestMetrics",
    "kafka.network:name=LocalTimeMs,request=FetchConsumer,type=RequestMetrics",
    "kafka.network:name=ResponseSendTimeMs,request=LeaderAndIsr,type=RequestMetrics",
    "kafka.network:name=ResponseSendTimeMs,request=Produce,type=RequestMetrics",
    "kafka.server:name=IsrExpandsPerSec,type=ReplicaManager",
    "kafka.network:name=IdlePercent,networkProcessor=1,type=Processor",
    "kafka.network:name=RemoteTimeMs,request=ListGroups,type=RequestMetrics",
    "kafka.network:name=RequestQueueTimeMs,request=LeaveGroup,type=RequestMetrics",
    "kafka.server:delayedOperation=Produce,name=NumDelayedOperations,type=DelayedOperationPurgatory",
    "kafka.network:name=RequestsPerSec,request=Produce,type=RequestMetrics",
    "kafka.network:name=ResponseQueueTimeMs,request=Produce,type=RequestMetrics",
    "kafka.network:name=IdlePercent,networkProcessor=4,type=Processor",
    "kafka.network:name=RemoteTimeMs,request=UpdateMetadata,type=RequestMetrics",
    "kafka.network:name=TotalTimeMs,request=Metadata,type=RequestMetrics",
    "kafka.network:name=RequestQueueTimeMs,request=Fetch,type=RequestMetrics",
    "kafka.network:name=ThrottleTimeMs,request=LeaveGroup,type=RequestMetrics",
    "kafka.network:name=RequestsPerSec,request=LeaderAndIsr,type=RequestMetrics",
    "kafka.network:name=IdlePercent,networkProcessor=5,type=Processor",
    "kafka.network:name=ThrottleTimeMs,request=JoinGroup,type=RequestMetrics",
    "kafka.network:name=RequestsPerSec,request=SyncGroup,type=RequestMetrics",
    "kafka.network:name=LocalTimeMs,request=GroupCoordinator,type=RequestMetrics",
    "kafka.network:name=ResponseQueueSize,processor=5,type=RequestChannel",
    "kafka.network:name=RequestsPerSec,request=JoinGroup,type=RequestMetrics",
    "kafka.server:delayedOperation=Rebalance,name=PurgatorySize,type=DelayedOperationPurgatory",
    "kafka.network:name=RemoteTimeMs,request=ControlledShutdown,type=RequestMetrics",
    "kafka.network:name=RequestsPerSec,request=FetchFollower,type=RequestMetrics",
    "kafka.network:name=TotalTimeMs,request=GroupCoordinator,type=RequestMetrics",
    "kafka.network:name=RequestQueueTimeMs,request=SyncGroup,type=RequestMetrics",
    "kafka.network:name=LocalTimeMs,request=ListGroups,type=RequestMetrics",
    "kafka.network:name=ThrottleTimeMs,request=ControlledShutdown,type=RequestMetrics",
    "kafka.network:name=ResponseQueueSize,processor=4,type=RequestChannel",
    "kafka.server:networkProcessor=4,type=socket-server-metrics",
    "kafka.network:name=RemoteTimeMs,request=SyncGroup,type=RequestMetrics",
    "kafka.server:delayedOperation=Fetch,name=PurgatorySize,type=DelayedOperationPurgatory",
    "kafka.network:name=RemoteTimeMs,request=Heartbeat,type=RequestMetrics",
    "kafka.network:name=RemoteTimeMs,request=GroupCoordinator,type=RequestMetrics",
    "kafka.network:name=TotalTimeMs,request=Offsets,type=RequestMetrics",
    "kafka.network:name=ResponseQueueTimeMs,request=GroupCoordinator,type=RequestMetrics",
    "kafka.network:name=ResponseQueueTimeMs,request=DescribeGroups,type=RequestMetrics",
    "kafka.network:name=RequestQueueTimeMs,request=Metadata,type=RequestMetrics",
    "kafka.network:name=ThrottleTimeMs,request=Fetch,type=RequestMetrics",
    "kafka.network:name=RemoteTimeMs,request=FetchConsumer,type=RequestMetrics",
    "kafka.network:name=IdlePercent,networkProcessor=3,type=Processor",
    "kafka.network:name=ResponseQueueTimeMs,request=JoinGroup,type=RequestMetrics",
    "kafka.network:name=ResponseQueueTimeMs,request=OffsetCommit,type=RequestMetrics",
    "kafka.network:name=RequestsPerSec,request=Fetch,type=RequestMetrics",
    "kafka.server:name=BytesRejectedPerSec,type=BrokerTopicMetrics",
    "kafka.server:name=MessagesInPerSec,type=BrokerTopicMetrics",
    "kafka.network:name=TotalTimeMs,request=OffsetFetch,type=RequestMetrics",
    "kafka.network:name=RequestQueueTimeMs,request=Produce,type=RequestMetrics",
    "kafka.network:name=RequestQueueTimeMs,request=FetchConsumer,type=RequestMetrics",
    "kafka.network:name=TotalTimeMs,request=Fetch,type=RequestMetrics",
    "kafka.server:networkProcessor=7,type=socket-server-metrics",
    "kafka.server:name=LeaderCount,type=ReplicaManager",
    "kafka.network:name=ThrottleTimeMs,request=DescribeGroups,type=RequestMetrics",
    "kafka.network:name=ThrottleTimeMs,request=GroupCoordinator,type=RequestMetrics",
    "kafka.server:type=Fetch",
    "kafka.network:name=TotalTimeMs,request=FetchConsumer,type=RequestMetrics",
    "kafka.network:name=ResponseSendTimeMs,request=UpdateMetadata,type=RequestMetrics",
    "kafka.network:name=RemoteTimeMs,request=StopReplica,type=RequestMetrics",
    "kafka.network:name=ThrottleTimeMs,request=Metadata,type=RequestMetrics",
    "kafka.network:name=RequestQueueTimeMs,request=ListGroups,type=RequestMetrics",
    "kafka.server:delayedOperation=Heartbeat,name=NumDelayedOperations,type=DelayedOperationPurgatory",
    "kafka.network:name=LocalTimeMs,request=UpdateMetadata,type=RequestMetrics",
    "kafka.network:name=RequestQueueTimeMs,request=UpdateMetadata,type=RequestMetrics",
    "kafka.network:name=RequestsPerSec,request=ListGroups,type=RequestMetrics",
    "kafka.server:clientId=Replica,name=MaxLag,type=ReplicaFetcherManager",
    "kafka.network:name=LocalTimeMs,request=JoinGroup,type=RequestMetrics",
    "kafka.server:networkProcessor=0,type=socket-server-metrics",
    "kafka.network:name=TotalTimeMs,request=OffsetCommit,type=RequestMetrics",
    "kafka.network:name=RequestQueueTimeMs,request=ControlledShutdown,type=RequestMetrics",
    "kafka.network:name=ThrottleTimeMs,request=FetchFollower,type=RequestMetrics",
    "kafka.network:name=ResponseSendTimeMs,request=FetchFollower,type=RequestMetrics",
    "kafka.coordinator:name=NumGroups,type=GroupMetadataManager",
    "kafka.network:name=RequestQueueTimeMs,request=Offsets,type=RequestMetrics",
    "kafka.network:name=ResponseQueueSize,type=RequestChannel",
    "kafka.network:name=TotalTimeMs,request=UpdateMetadata,type=RequestMetrics",
    "kafka.server:name=FailedFetchRequestsPerSec,type=BrokerTopicMetrics",
    "kafka.log:name=max-dirty-percent,type=LogCleanerManager",
    "kafka.network:name=RemoteTimeMs,request=Fetch,type=RequestMetrics",
    "kafka.network:name=LocalTimeMs,request=LeaveGroup,type=RequestMetrics",
    "kafka.server:delayedOperation=Rebalance,name=NumDelayedOperations,type=DelayedOperationPurgatory",
    "kafka.network:name=ResponseSendTimeMs,request=Metadata,type=RequestMetrics",
    "kafka.network:name=LocalTimeMs,request=Offsets,type=RequestMetrics",
    "kafka.utils:name=cleaner-io,type=Throttler",
    "kafka.network:name=ResponseSendTimeMs,request=Heartbeat,type=RequestMetrics",
    "kafka.network:name=RequestQueueTimeMs,request=FetchFollower,type=RequestMetrics",
    "kafka.network:name=ThrottleTimeMs,request=LeaderAndIsr,type=RequestMetrics",
    "kafka.network:name=LocalTimeMs,request=SyncGroup,type=RequestMetrics",
    "kafka.network:name=ResponseQueueTimeMs,request=UpdateMetadata,type=RequestMetrics",
    "kafka.network:name=RequestsPerSec,request=Metadata,type=RequestMetrics",
    "kafka.network:name=RemoteTimeMs,request=Metadata,type=RequestMetrics",
    "kafka.server:networkProcessor=2,type=socket-server-metrics",
    "kafka.network:name=RequestQueueTimeMs,request=OffsetFetch,type=RequestMetrics",
    "kafka.network:name=RequestsPerSec,request=UpdateMetadata,type=RequestMetrics",
    "kafka.network:name=ResponseSendTimeMs,request=Fetch,type=RequestMetrics",
    "kafka.network:name=ResponseSendTimeMs,request=FetchConsumer,type=RequestMetrics",
    "kafka.network:name=LocalTimeMs,request=OffsetFetch,type=RequestMetrics",
    "kafka.controller:name=ActiveControllerCount,type=KafkaController",
    "kafka.network:name=LocalTimeMs,request=FetchFollower,type=RequestMetrics",
    "kafka.server:name=BytesOutPerSec,type=BrokerTopicMetrics",
    "kafka.network:name=ResponseQueueTimeMs,request=ListGroups,type=RequestMetrics",
    "kafka.network:name=ThrottleTimeMs,request=OffsetCommit,type=RequestMetrics",
    "kafka.controller:name=LeaderElectionRateAndTimeMs,type=ControllerStats",
    "kafka.network:name=ResponseQueueSize,processor=6,type=RequestChannel",
    "kafka.network:name=ResponseQueueTimeMs,request=FetchFollower,type=RequestMetrics",
    "kafka.log:name=cleaner-recopy-percent,type=LogCleaner",
    "kafka.network:name=LocalTimeMs,request=Produce,type=RequestMetrics",
    "kafka.network:name=ResponseQueueSize,processor=1,type=RequestChannel",
    "kafka.server:clientId=Replica,name=MinFetchRate,type=ReplicaFetcherManager",
    "kafka.network:name=ResponseSendTimeMs,request=SyncGroup,type=RequestMetrics",
    "kafka.network:name=TotalTimeMs,request=LeaderAndIsr,type=RequestMetrics",
    "kafka.network:name=RequestsPerSec,request=GroupCoordinator,type=RequestMetrics",
    "kafka.server:name=TotalFetchRequestsPerSec,type=BrokerTopicMetrics",
    "kafka.network:name=RemoteTimeMs,request=FetchFollower,type=RequestMetrics",
    "kafka.network:name=ThrottleTimeMs,request=FetchConsumer,type=RequestMetrics",
    "kafka.coordinator:name=NumOffsets,type=GroupMetadataManager",
    "kafka.server:id=1001,type=app-info",
    "kafka.network:name=RemoteTimeMs,request=Offsets,type=RequestMetrics",
    "kafka.network:name=RequestQueueTimeMs,request=OffsetCommit,type=RequestMetrics",
    "kafka.network:name=RemoteTimeMs,request=LeaderAndIsr,type=RequestMetrics",
    "kafka.network:name=RemoteTimeMs,request=DescribeGroups,type=RequestMetrics",
    "kafka.network:name=RequestsPerSec,request=ControlledShutdown,type=RequestMetrics",
    "kafka.network:name=TotalTimeMs,request=ListGroups,type=RequestMetrics"
  ],
  "request": {
    "type": "search",
    "mbean": "kafka.*:*"
  },
  "status": 200,
  "timestamp": 1465974055
}
メトリクスを確認する場合のread書式は
http://[サーバーIP]:8778/jolokia/read/[メトリクス]

[root@kafkamonitoring ~]# curl -s http://10.1.0.13:8778/jolokia/read/kafka.server:networkProcessor=4,type=socket-server-metrics | jq . 
{
  "value": {
    "response-rate": 0,
    "outgoing-byte-rate": 0,
    "io-time-ns-avg": 4206.140350877193,
    "io-wait-time-ns-avg": 300293983.64912283,
    "incoming-byte-rate": 0,
    "connection-count": 0,
    "io-wait-ratio": 1.0025923015375604,
    "io-ratio": 1.4043051691316445e-05,
    "request-rate": 0,
    "request-size-avg": 0,
    "request-size-max": null,
    "select-rate": 3.338702591887538,
    "connection-creation-rate": 0,
    "connection-close-rate": 0,
    "network-io-rate": 0
  },
  "request": {
    "type": "read",
    "mbean": "kafka.server:networkProcessor=4,type=socket-server-metrics"
  },
  "status": 200,
  "timestamp": 1465980199
}

すべてを確認する場合は
curl -s http://10.1.0.13:8778/jolokia/read/kafka.*:* | jq .
にて確認できます。
これらをCronなどで定期的に取集することなども行えます。jqやawkなど利用してログに残すこともできます。
まとめ
Hdinsight をモニタリングする場合、ポータルで出来るのが理想ですが、さすがに無理なので今回はjolokiaを利用したモニタリングの方法を紹介しました。
これはHdinsight やkafkaに限った方法ではありません。JMXを利用してモニタリングを行いたい場合は非常に便利です。
ではでは